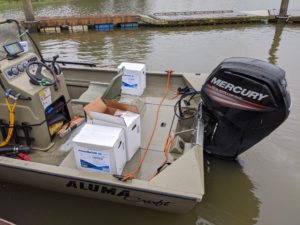 After nearly 2 years of grass roots community effort, treatment of the Eurasian watermilfoil weed infestation in Vancouver Lake began early this morning.
Using specialized boats and equipment, AquaTechnex began applying Procellacor, a new herbicide specifically targeting milfoil that is otherwise safe for humans, pets, fish and wildlife.
Treatment is expected to take another 2 days and will not affect Lake users nor limit activities.
Eurasian Watermilfoil (EWM) is a class B noxious weed in Washington that requires mandatory control. EWM forms dense mats underneath the surface of the water and left untreated, quickly alters the ecosystem of water bodies threatening lake users, animals, and native species of plants and aquatic life.
The presence of EWM was first identified in spring 2018 by regular Lake users – primarily members of the Vancouver Lake Sailing Club and the Vancouver Lake Rowing Club, who became alarmed as they noted widespread infestation and expansion into rowing, sailing, and swimming areas. These citizens determined that without effective treatment, EWM would cover the Lake by 2021.
Friends of Vancouver Lake (FoVL) formed in late 2018, after finding no current or planned efforts to control EWM by local government agencies. The group joined with representatives of local rowing and sailing clubs to immediately begin working with local agencies, SW WA legislators, and the state Department of Ecology to apply for a permit to treat EWM as a private group.
Through dogged determination and the support of many allies, FoVL and the Rowing Club ultimately gained the Ecology permit to use newly-approved ProcellaCOR to treat the Lake's EWM and contracted with Bellingham-based AquaTechnex LLC to complete the treatment. FoVL also began extensive fundraising efforts gaining support from 100s of Clark County citizens and significant donations from the Firstenburg Foundation and the Ed and Dollie Lynch Foundation as well as contributions from Clark County and the Port of Vancouver USA.
The Department of Ecology, the Department of Fish and Wildlife and Clark County weed control will monitor effectiveness of the treatment and continue to survey the Lake for signs of new growth which must be addressed.
Future management and treatment will occur through the County's newly-minted Integrated Aquatic Vegetation Management Plan (IAVMP). FoVL participated extensively in development of the plan and will continue to support observation and treatment as part of its commitment to restoration of the Lake.
Thanks to all those who belived in this endeavor and who supported the efforts to make this treatment a reality!